When I returned to playing the violin around 1978 I really needed a diversion from life's troubles so I turned to playing my violin. I worked on reading and memorizing fiddle tunes from a book I had acquired somewhere. I began to look for and purchase fiddle tune books. I also tried to resurrect a couple classical pieces that I used to play. The obsession began.  
As my skill level increased, I began to long to perform and to appease the longing, I went to open mics and experienced some serious stage fright, which caused me to not be selected to play until the wee hours when mostly everyone had gone home. I became aware of the Western New York Bluegrass and Old Time Music Association (WNYBOTMA) through people that I met at open mics.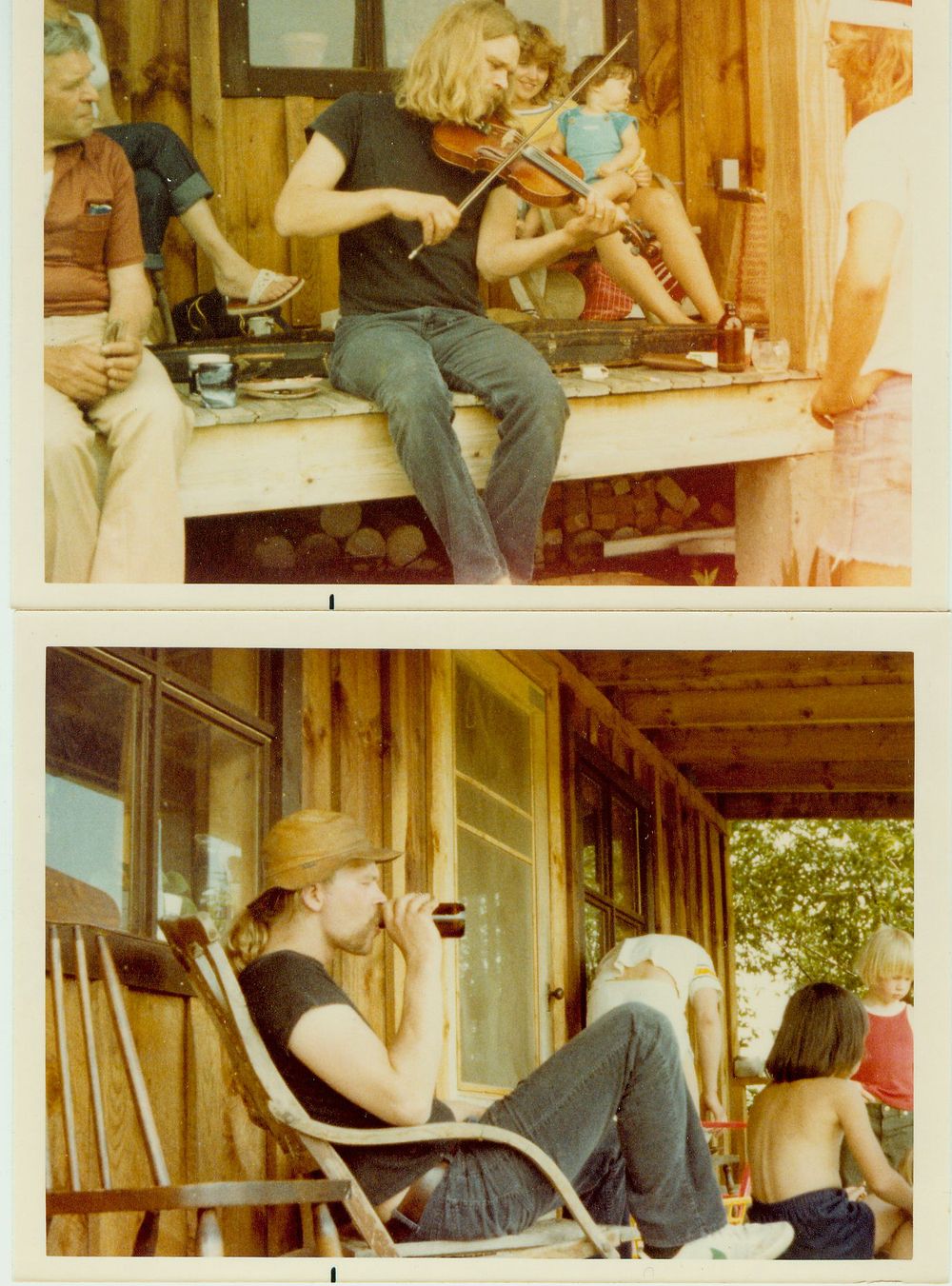 Without Further Ado (1980-2002?)  
I practiced playing tunes out on the porch of my house as part of my learning and performing process. I met Steve Piwowar (Pevo) as a result of this practice when he walked over one day and announced that he also knew some of the tunes I was playing. Steve had been working on renovating the garage a couple doors down and he told me that he played guitar and mandolin. We got together and began to play tunes. Steve also sang and played squeezebox and he introduced me to the Holy Modal Rounders and many other musical influences. He came up the idea of performing as "Without Further Ado". We played at numerous musical functions as Without Further Ado even after City Fiddle was born. When we did a duo gig we were Without Further Ado.
Steve and I played Civil War dances with just guitar and fiddle and got so that we could play for hours without repeating tunes. We had a pretty good repertoire and when I began writing tunes in 1995 he learned them all. We used to go to Fort Niagara to play music and the fort folks would find 18th century clothes for us to wear and we would play fiddle tunes. Not necessarily period correct music but they liked us and I still play music for events at the fort a couple times per year and I own a pair of knee britches and buckle shoes. 
In 2001 or so, Steve and I recorded a project here in my house which consisted of playing 20 of my Neo-Traditional Fiddle Tunes. I bought a Roland VS840, figured out how to use it, got some mics, and recorded the two of us playing the tunes live but separated by some sound barriers. I then got a free version of ProTools on line and learned how to edit the music. I found out that the music programs allow a great deal of manipulation from replacing a single note to enhancing the sounds in a myriad of ways. We did a few overdubs and Gretchen played on one tune as she was just coming onto the scene. For the most part that CD is live with a few enhancements and when I had it "mastered" there was a little electronic stuff done to enhance it further. It is a pretty natural sounding recording in my opinion. It is still available too.
We played gigs together for around 20 years before different roads called us.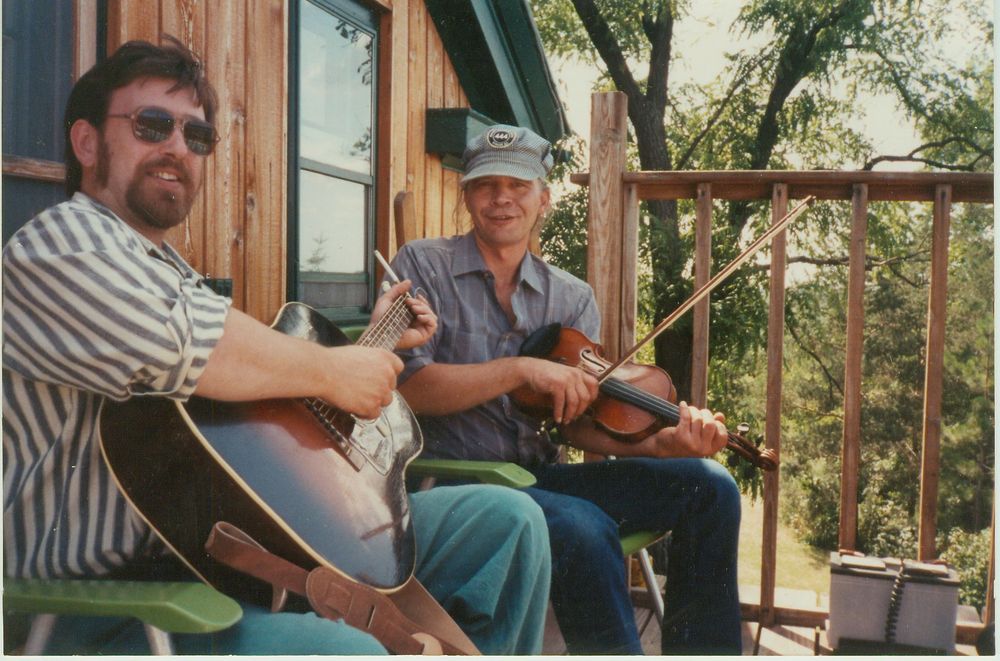 Half Grass (1980-1982?)
One of the first guys that I met at the open mics was WK Moberly. It was at a place called Curan's on Delaware Ave and he was the one who introduced me to WNYBOTMA. He also played bass in a band called Half Grass which included John Edmiston on guitar and Bob Harrington on guitar and banjo. I was invited to join their band, which played songs by The Kingston Trio, Jimmy Buffet, Neil Young, and a variety of other country/folk/bluegrass artists. They knew and were willing to learn some fiddle tunes as well. I had no idea about music except what I had been reading so my education into chord theory and improvisation was really kicked into high gear. We played at Ground Round restaurants and the girlfriends or wives used to come to the gigs where the patrons threw peanut shells on the floor as that was the culture. I was reminded that we were fired from a Ground Round for doing Jimmy Buffet's "Why Don't We Get Drunk…". This was my first exposure to playing out and improvising on the fiddle. We played as Half Grass for a couple of years or so before the band disbanded.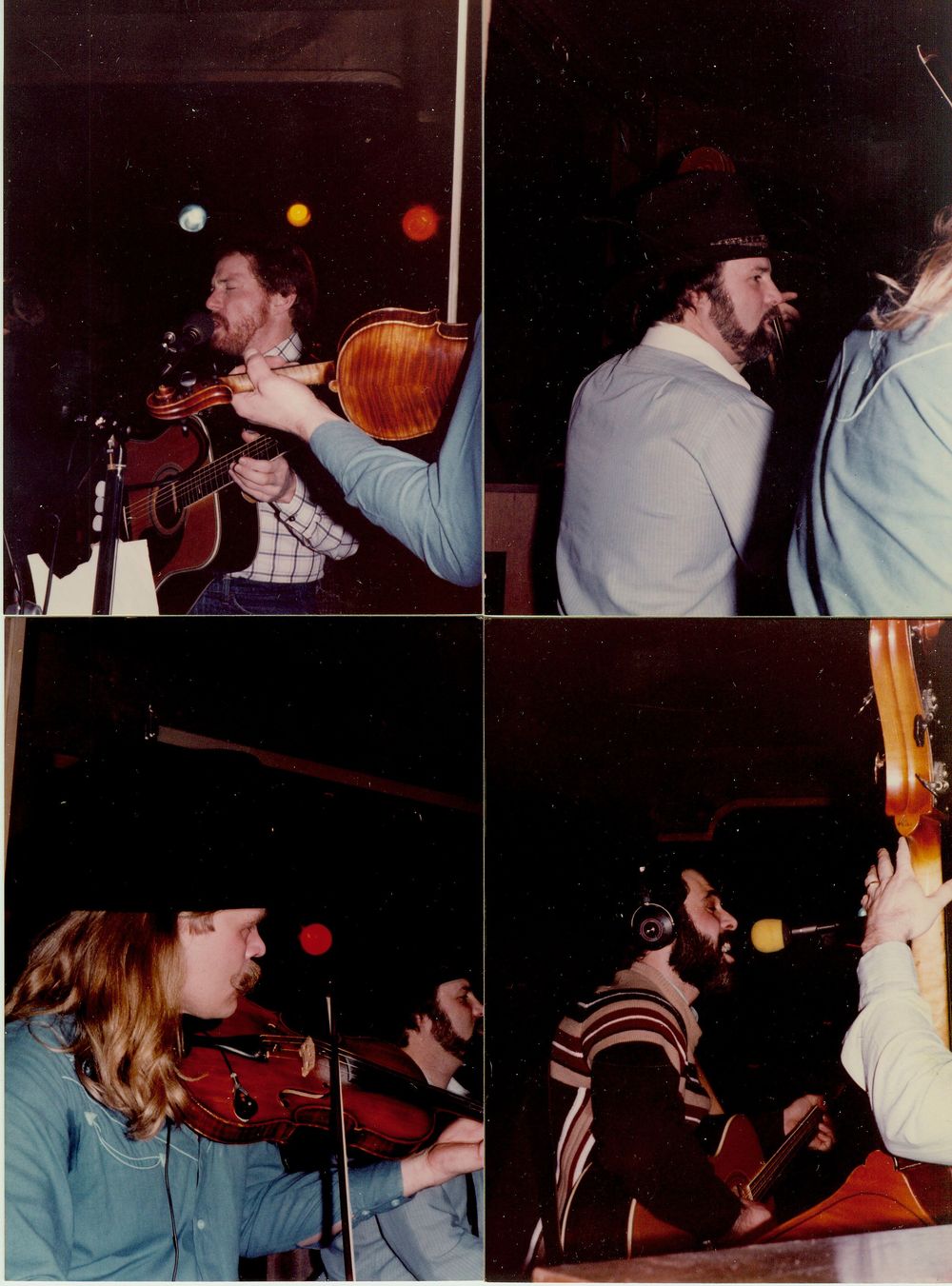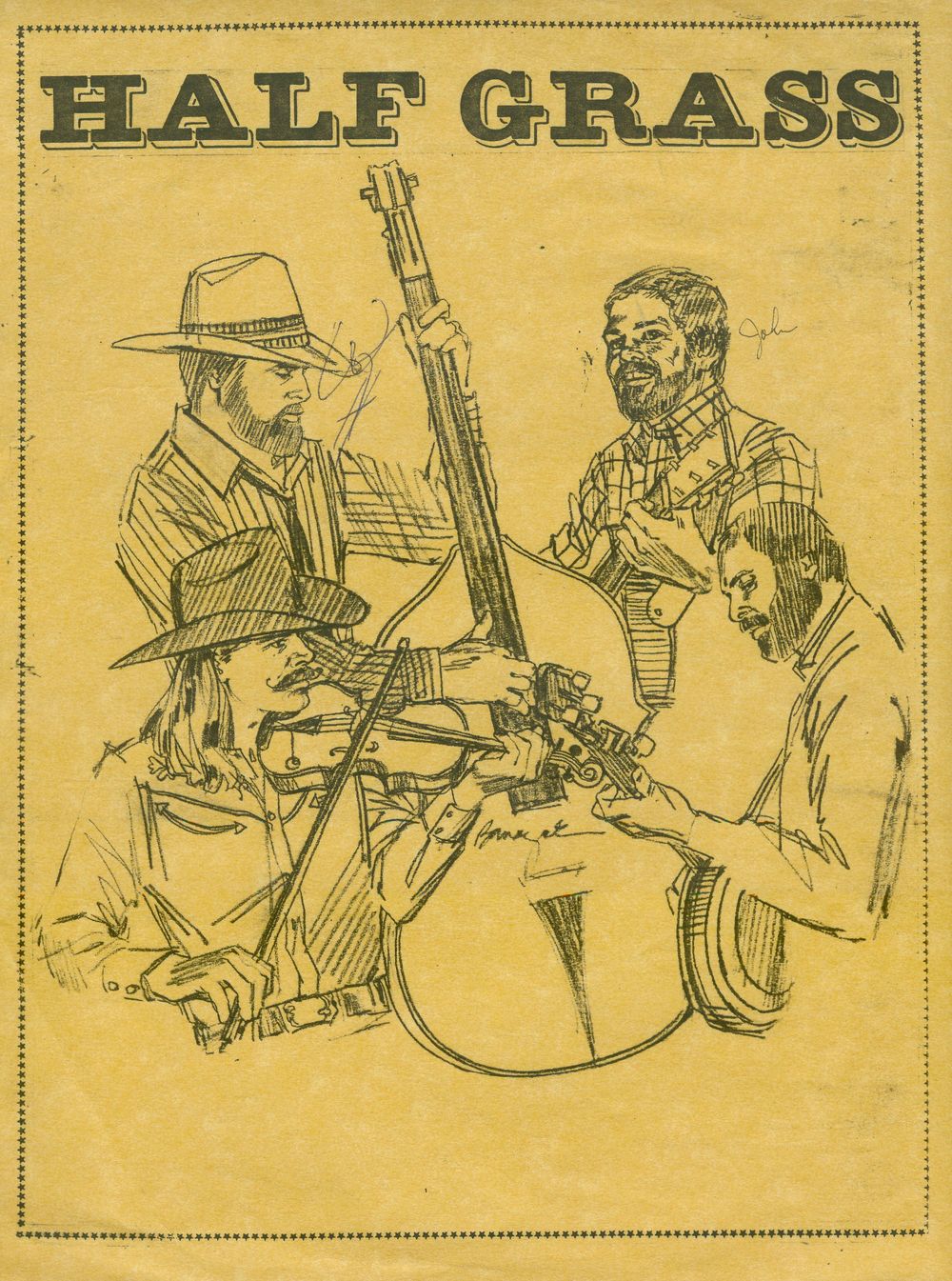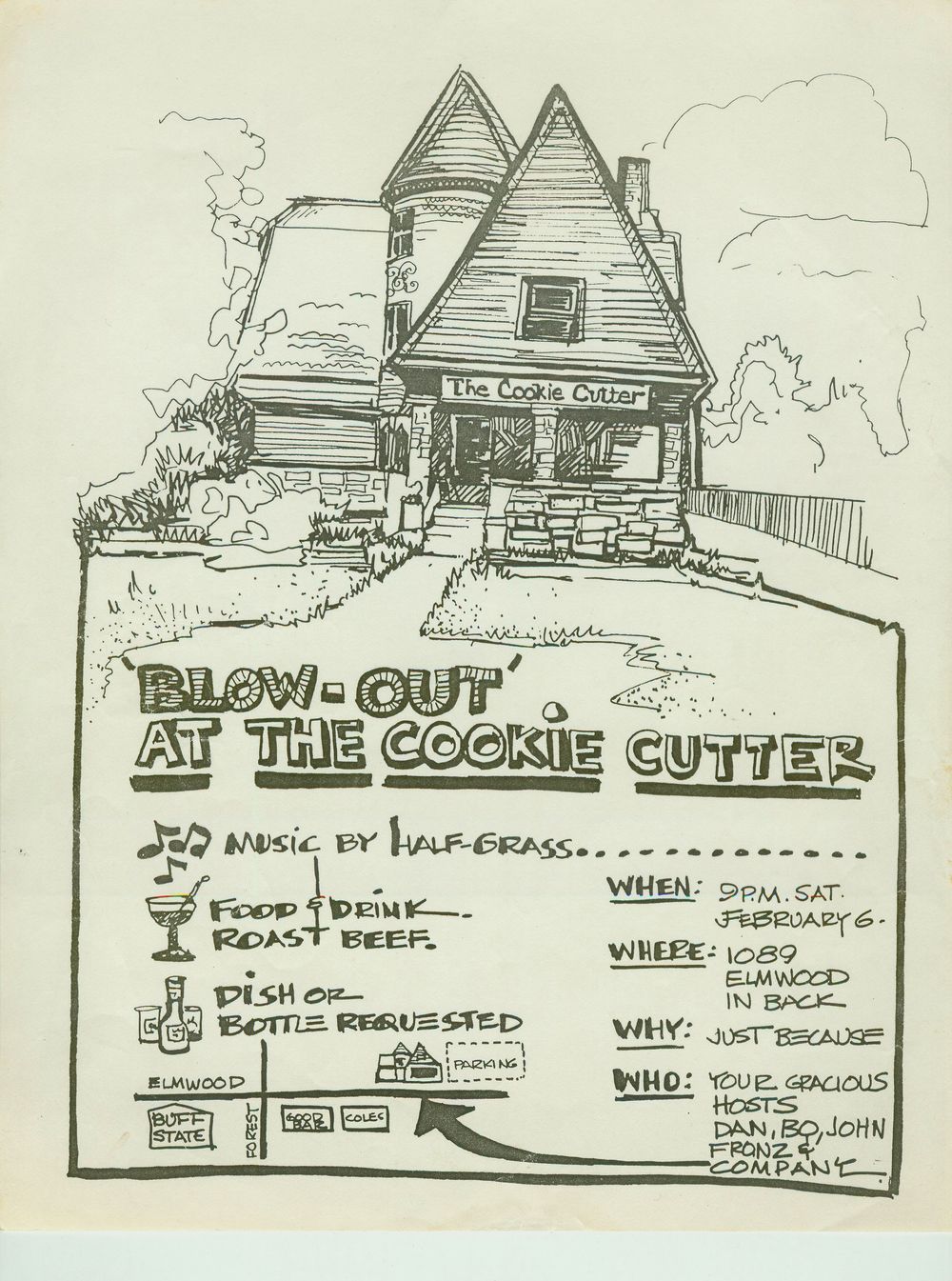 The association with Half Grass and specifically Bob Harrington, from Batavia, put me into the sphere of influence of Bill Pitcher and 
Pavillion Natural Grass (circa 1980-2018)
Bill Pitcher, Kent Ewell, Bob Harrington, Hoover, Tim Pitcher, Bake McBride, Chris Gerwitz, Teddy Lambert, Uncle Rog, half-fast Eddie and many, many more I'm sure. These guys would play a song or medley for 20 minutes in a bar and the place was going nuts. All in the key of "G". Pitch would get us assembly gigs at school as he was some kind of admin with the schools and we went on to play one of these shows with 11 or 12 guys in the band. 2-snare/high hat drum kits, 2 or more banjos, lots of guitars, mandolin and of course at least one fiddle. There are still opportunities to play PNG gigs once or twice a year. Many of these guys participated in a video that featured City Fiddle, pool table antics, and a snowball fight.