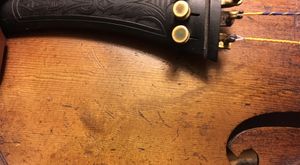 Philip Banaszak
Hi, my name is Philip Banaszak and for better or worse I am City Fiddle. 
I have tried to play like Jimmy Buchanan, Richard Greene, Jean Luc Ponty, Vassar Clements, Kenny Baker, Johnny Gimble, Ricky Skaggs, Mark O'Connor, James Kelly, Bobby Hicks, Chubby Wise, Scotty Stoneman, Liz Carroll, Stuart Duncan and Aubrey Haynie but I ended up sounding like me.
Starting classical violin lessons in the 3rd grade, I continued my violin studies for about 7 years before taking an 11-year sabbatical from playing but then attacking the matter of becoming a fiddler/musician with a vengeance. My early learning proved to be a blessing in the operation of the instrument and I gained some local recognition of the Western New York Bluegrass/Old Time community in relatively short order as spending 3-5 hours a day practising tends to improve one's outcome. 
Fast forward 40 years and I am still at the music making having added mandolin, guitar and vocals to my musical output with City Fiddle, Canal Street String Band, Creekbend, and the Buffalo Bluegrass All-Star Band. Rarely do I practice 3-5 hours a day. 
I have been composing "Neo-Traditional Fiddle Tunes" since 1995 compiling a collection of around 100 pieces to date and releasing a recording with accompanying music book of 20 original tunes in 2002. Inducted into the New York State Fiddlers Hall of Fame in 2005 I have been teaching fiddle and mandolin at the Community Music School in Buffalo since the early 90s.
I also do some teaching out of my home on a limited basis and will be exploring providing Skype lessons in the future.
This website is a documentary of much of my life's work with a major focus being on music and related obsessions. Being raised as a 3rd (at least) generation paint and wallpaper man I performed work in that profession as "Up Your Walls" until around 1992 when I left the interior home restoration field and returned to school. I earned a degree in Substance Abuse Counseling and eventually became a Credentialed Alcohol and Substance Abuse Counselor, CASAC. I worked in that business for almost 25 years but that is not really part of this project yet. 
In "retirement" I have brought Up Your Walls out of his retirement and have been working on my own house so there is documentation of some of that work on the Up Your Walls page. If you have an interest in home repair work, you may well enjoy a visit there.
The Button Room is just that! I have a room full of buttons. Need one? or a million?
If you would like to leave a comment, visit The Stream.