Up Your Walls
Up Your Walls (UYW (we never used this abbreviation but I do now))
My grandfather and my father both worked in the paint and wallpaper business so being raised as a 3rd (at least) generation paint and wallpaper man I performed work in that profession from my late teens until around 1992 or so when I returned to school and earned a degree in Substance Abuse Counseling and became a Credentialed Alcohol and Substance Abuse Counselor, CASAC. 
My business name was "Up Your Walls"!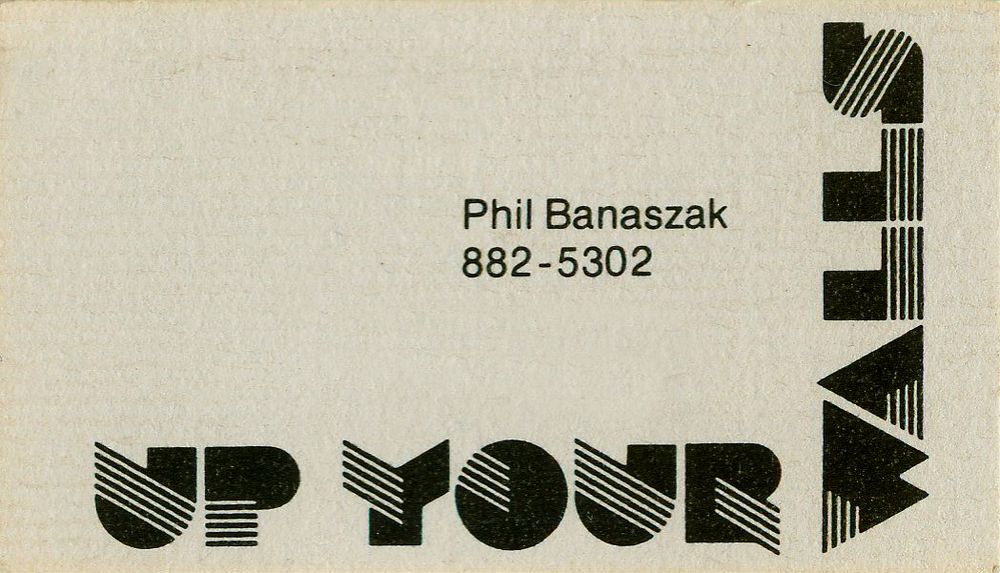 Recently, I started doing some restorative work in the kitchen and pantry on the second floor of our house by stripping off 2 layers of (the same) linoleum, a layer of masonite, a layer of 9 in vinyl asbestos tile that was glued to a layer of felt paper that was glued to the waxed maple floors. I scrubbed the wood and removed as many nails as I could before applying a couple of coats of wax. They look great and are slippery. The beadboard wainscoting has been paneled over with cheap paneling and then painted with latex paint. I was not in a mood to remove the paneling so I put a coat of paint on the paneling and woodwork. In the pantry, I ended up stripping the lower part of the cupboards and then putting a coat of latex enamel on them but I will strip the doors to a cleaner level and put them on with a natural wood look. I stripped the upper cabinets in the pantry and refinished them with lacquer about 18 years ago. They still look great.
I repaired the plaster ceiling and bits of wall that were not covered by paneling and installed wall coverings. A sheet of 54 in suede-look vinyl wallcovering was adequate to cover the ceiling without any seam and I put a checked design wallpaper on the walls. The first wallcovering job I've done in quite a few years unless you count my repairing the wallpaper in the oak hutch that Pearl (the cat) tore up, as a wallpapering job. Note that I used paint and other wall repair products that I had here at home and when I first primed the ceiling and walls in the pantry I used some Shieldz that I had around the house on top of some joint cement that has been in the downstairs kitchen for 20 years or more and I used it to skim the walls before painting. I finished the job of painting the pantry and I went downstairs to clean my brush an roller and when I returned the paint I had applied had alligatored in a very dramatic way. The paint did not bond to the wall uniformly and had to be removed. I needed a razor to get it off. I discarded the Shieldz and primed it with another primer before installing the wallcovering.
The floor stripping operation was such a success that I began to think that the upstairs bath would be a likely candidate for the floor stripping as it has the same maple flooring as the kitchen and pantry have. I started stripping the layers of felt paper, glue and vinyl tile off and uncovered the extent of the damage that had been caused by plumbers, who years ago tore up the maple floors to address plumbing problems. However, I think they could have reused some of the maple that they took out. I was able to find 3 10 ft pieces of 2 inch maple flooring from Buffalo Reuse. I had 3 small pieces I found years ago in a neighbor's trash pile and my bro Don gave me a bunch of 21/4 in maple flooring with which I hope to repair the maple floor to a better state than it is now! More on that later. 
Update: I found a supply of the 2 in maple around the corner but $1.50/foot. Niemiec Lumber.