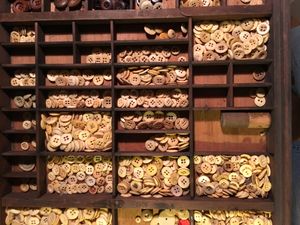 The Button Room
Back around 1972, when we lived on the North Shore of Boston, my wife Patty and I bought a large jar of buttons for I believe $2 at a flea market. When we dumped out the contents of the jar it was amazing to see how really beautiful some of them were. Made from sea shell, glass, metal and a variety of other substances the buttons provided some quality time activity for us. Sadly, when our marriage ended around 1985, she got the much-contested button jar! 
It did not take me long to come across another opportunity to buy some quantity of buttons at a sale somewhere and I was off on a button quest. I acquired more and more button boxes full of buttons. All kinds of boxes, bags, and jars kept finding their way into my path at prices that I could afford. I had delegated one room to house the buttons but they spilled out into the dining room. 
I recall one day when my late father had come by for some reason and I had the dining room table covered with green fabric and a large number of buttons dumped out on the cloth as was the process of sorting. Some of the Up Your Walls crew was here and we all sat down around the table to have coffee with my dad bitching about my apparent obsession with the buttons. A few minutes later he was holding up a button saying " hey, look at this one…" and helping us to sort while we had our coffee. 
 The following is a quick tour of the Button Room.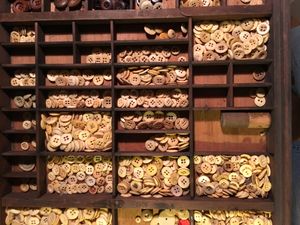 Over the years I purchased 2 typesetters cabinets and then cleaned and oiled the drawers. 11 drawers in one and 24 in the other which are perfect for the housing of many different items as most drawers have 89 compartments. The cabinets were stripped and refinished and then began to house the products of the sorting process. At some point, I acquired another cabinet with thin flat drawers, which served as sorting drawers and kept my spools of thread and other trinket collections.  
A drawer for buttons made of; black glass, colored glass, vegetable ivory, mother of pearl, funky plastic, metal and bone further separated by the number of holes or attachment fixture and by design. Trinkets that are found in button boxes have a home in these cabinets as do other sewing paraphernalia items like bone bodkins, thimbles, whistle buttons and bone curtain rings along with pocket knives and dice. A "one of a kind" drawer as well as a drawer containing "beautiful pairs" of buttons and one for marbles. Some serve as sorting drawers. The photos below are of the drawers with most of the drawers represented by 3 pics.