Instruments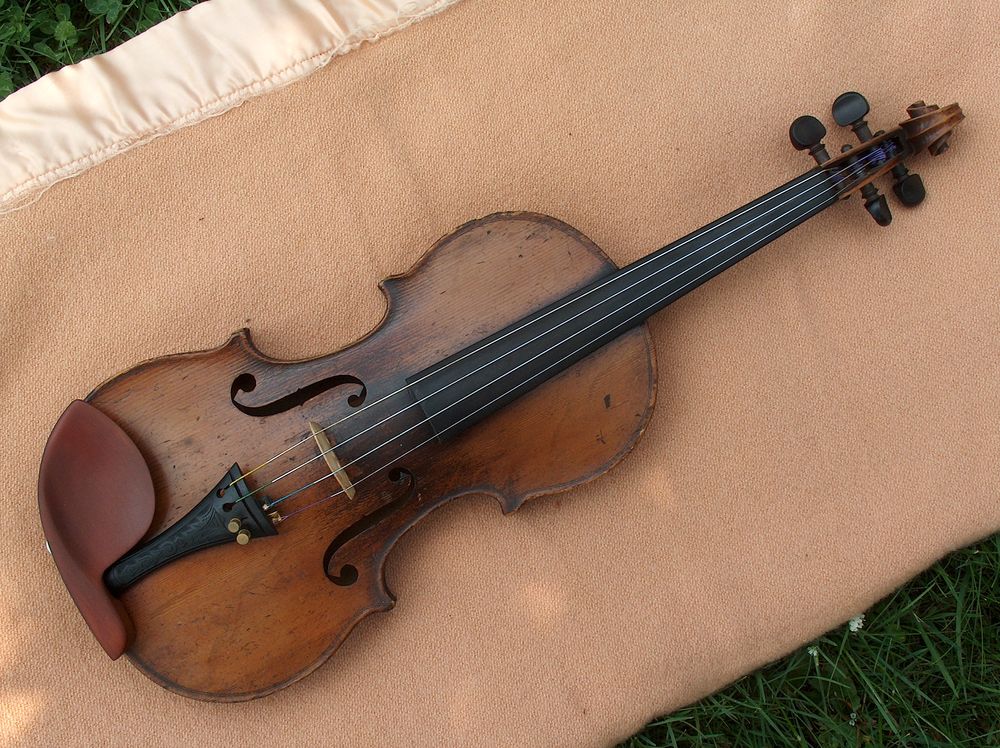 Here is a little about the the instruments that I play regularly as they have great stories with them and are both really great instruments in my opinion. I also mention a couple instruments that played a big part in the development of my style and sound. 
My first violin was a GA Pfretzschner bought by my father from Mathew Brodowski in Cowlesville for $75 when I was about 11 or 12 years old. I played it so much and squeezed so hard trying to play in tune that I wore a dip in the neck of the violin and I have a callous at the base of the first finger on my left hand! She is very loud and bright sounding and it takes getting used to the sound. 
The second violin that I acquired was a Louis Knoebe made in 1886. I paid the equivalent of about $30 for it. Anthony Wrona re-varnished the top, put a different bass bar in it and patched some cracks in the top. That fiddle was very loud and brassy sounding so I traded it to Bruce Clark for the JTL that I play out currently which is pictured above with the label. The Knoebe was probably worth $2000 or more. This JTL is probably "worth" less than a $1000. My late friend Frank Reilly said of the JTL "I don't care what the label says, it's f#@*ing Italian!" He further noted that he had played all the instruments at Curtis and he knew the sound. 
The JTL is golden brown with darkened areas around the bridge area and around the edges a little. It had a faux tiger maple varnish on the neck but it is all but gone now. The scroll is not typical of this grade of JTL as it is delicate and nicely carved. The top is full of bear claw figures (nice closeup of that grain in the main page photo) and the grain is wide on the bass side and narrow on the treble side. The "purfling" is inked in and the neck and back are very plain maple. The sides have a slight flame pattern. The only real repair is on the rib near where the chin rest was probably cranked down too tight. Nicely repaired. I scratched "Make a joyful noise unto the Lord" into varnish around the bottom of the rear ribs. I really love the sound it is capable of producing and it can be played aggressively. I wear ruts in the fingerboard.
This is my regular fiddle. 
The mandolin that I play is a Banaszak D1. One of a kind built as a quit smoking incentive by my brother Donald. In the video below I talk about the history and some rather recent alterations. and then play a tune that I wrote called D1 Mandolin which celebrates the instrument.
The Collection
The collection of instruments started soon after I started to play. My wife commented how the cases looked like alligators in the dining room. I aspired to be a luthier and started to research techniques and methods used to restore violins.  I started buying fiddles wherever I could find them in a price range that I could afford. Many fiddles were taken apart to explore violin construction and repair.
Guitars and mandolins have found their way into the collection as has a concertina and a bunch of banjos (What's a group of banjos?), ukeleles and more.
I started to do a mental inventory and recollection of instruments that I have had and where they are today in the stream of consciousness bit that follows. Some of the names have been changed to protect the innocent. 
The Paganini model that I got from Frank Reilly for $35, repaired it and won a fiddle contest with it. Beth has that fiddle. 
The Flea Market Fiddle $15? Ron Hinton did repair and improvement on it. No idea where it is. 
Hamburg Antique Store Fiddle  $60. Dark Brown with a grafted scroll. Did a neck reset but it needs another one. Nice dark sound as I recall. Bad break at the button but I did a false button and it is very stable.
M Z fiddle may have button issues. 
M Z mandolin Neapolitan, tater bug style with cracked back or separations of the pieces. 
Gary and Patty violin has button issues I think. 
JW Pepper fiddle Strad copy, red in color, I always like that thing and played it regularly. Sold it to Billy Constable for $300 and it got crushed in an automobile accident. Acquired from a men's shop guy who saw me walk by with my fiddle to get to the Studio Arena Theater. I was in a show at SAT and he approached me saying that he had 2 violins that he was interested in selling. I bought both for under a $100 I think but the other fiddle was a Bruno Violin that had shrunk up so badly that it could not be reassembled by me or Ron Hinton. 
I had a plywood mandolin that I sold after getting my 
1927 Gibson F2 mandolin from the guy at the optical store in Lockport. He said that his father traded "a few bucks and a suitcase" for the mandolin from a guy who needed a few bucks and a suitcase. I paid $1100 for it and Leon Ross helped me finance the purchase. It was and is in really nice shape but for most of the wear and tear on it, I am responsible. 
Kalamazoo Flat Top Paid $100 for it through Steve Piwowar. No serial number or anything. Brother Don did a neck reset on it and I play it a lot around the house 
1920s Martin Ukelele Mahogany Pd $20 for it! Thanks to Steve Pevo (as he called himself.) 
1920s Martin Ukelele Koa $35 Estate sale. In Donald's possession. 
Kalamazoo Blonde Archtop Got from Ann Jett for $100 or $75 I think. One mighty sweet guitar. Plays real nice.
Kalamazoo Small Archtop $100 Through Pevo. Gave it to Josh and he still has it. 
Huss and Dalton TD-R Rosewood back and sides. Real bluegrass canon if you ask me! Bought from Stutzmans in Rochester. 
German Viola From Frank Reilly's friend/landlord. Ron Hinton did a false button repair and fixed some cracks. 
Old Wood Cello Sam Primerano put a new fingerboard, bridge and strings on it and set it up to play. It looked like a big sister to my Pfretzschner. Very similarly flamed backs and tops that looked as though they came out of the same log. I probably paid $100 for the cello and paid Sam another $100 or $150 to put it on the road. Sold it when I was in school and needed the money. Got $700 for it. Still hurts. 
Gretchen's Strad-O-Lin I'm guessing 1950s plywood job that has a pretty nice sound. The instrument that inspired the "Tonight, on this old Strad..." videos.
Venitian Style Mahogany mandolin that I bought on Ebay for $140 but the money never left my account so I got it free. I tried to contact the seller but his account was closed and I was unable to learn what happened. The mandolin has been refinished and there is a note inside about the detachable neck… 
Kathy M- Brown JTL violin similar to my Guadaguini copie but probably newer . Copie of ? no inlaid purfling. 
Rachel - Brown JTL different scroll on the back very different looking carving? Also a copie of ? and it has some areas in the varnish that have been damaged by some kind of spill but it sounds pretty nice.
Mary - JTL golden color with inlaid purfling. 
The Fox Fiddles sold one to Lorna to take on her trip and sold one to the church where I was teaching. The one Lorna got sounded better and someone had removed the varnish under the bridge in a rectangular pattern.